Staff
Co-Director and Board Member
Rose FeerickContact
Rose Feerick grew up in a family that emphasized kindness, ethics, integrity and generosity.   As a young adult, she decided to live simply and work with women who were homeless.  About the same time, she received the unexpected gift of a financial portfolio. The paradox of that moment awakened questions related to wealth, spiritual wisdom and social justice. Rose has been offering retreats related to money and Christian spirituality since 2003.  She has a BA from Georgetown University and an MDiv from the Jesuit School of Theology of Santa Clara University.  She lives in Santa Cruz, California and is delighted to be the mother of two young adult sons who share her love of music, nature and conversation about stuff that matters.
Co-Director and Board Member
Steven BonseyContact
Steven Bonsey, Co-Director, is a student of contemplative Christianity in Cynthia Bourgeault's Wisdom Schools. He has worked as an Episcopal priest in parish, campus and retreat ministries. He was co-founder of the Leadership Development Initiative in Massachusetts which trains faith-based teams in contemplative spiritual practice, community-building, and collaborative action. He served as Canon Pastor of the Cathedral Church of St Paul, Boston, where he supported the creation of innovative ministries such as The Crossing worship community and MANNA street ministry. Born on Molokai in Hawaii, he was educated at Iolani School, Harvard College and Yale Divinity School. He lives in Cambridge, MA and Alexandria, LA. He is married to Elisabeth Keller; they have four children.
Wisdom & Money Book Author & Project Manager
Tracy BindelContact
Tracy Bindel is a protagonist of economic and spiritual transformation and is set on creating a livable economy for all people. Based in Minneapolis, Tracy works at the intersections of spirituality, law, and finance. She has spent the last 10 years supporting people to listen deeper–to themselves and others–in pursuit of their true calling as a facilitator, lay minister, mediator, and friend. As a member of the Boston Wisdom & Money circle, Tracy is currently working on a book to share the story of what has transpired over the last 15 years as this circle used money as a doorway to personal and collective transformation. Her formal education has been through Suffolk University Law School, Still Harbor, and Wellesley College but she has learned the most among the trees and in beloved communities.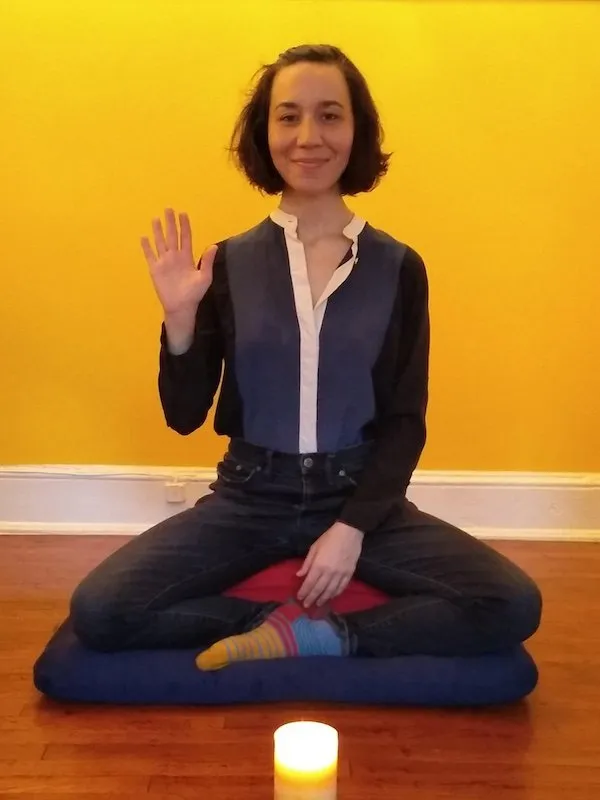 Administrative & Communications Coordinator
Nadia BouhdiliContact
Nadia's perfect day would go a little something like this: a run in the neighborhood arroyo, morning meditation, tea and dharma talk with her partner, a walk in nature, completing a painting, joking around, having meaningful conversation over a meal (with loved ones or strangers), and freedom from sadness around suffering in the world. Having been more "inwardly" spiritually oriented until now, she is eager to learn from the people at Wisdom & Money, people who are seasoned in both inward and collective/systemic orientation.
Prior to joining Wisdom & Money, Nadia grew up in the DC area, spent her 20s in France, was reeled back in to DC by love, co-owned an acupuncture clinic there, sold it in 2020, and moved to Santa Fe, NM, where she now resides.
Chairperson of the Board
Nancy Thurston
Nancy Thurston comes from petroleum money, but is committed to sustainability; immersed herself in the past to learn to be present; lives in Portland but knows her neighborhood is global. She was active in Harvest Time, including Board membership, before becoming Wisdom & Money Board Chair. In addition, she serves as the co-director of Be Present, Inc.'s Vision-Based, Social Change Fund Development Team. Her work in these organizations helped support her awakening then writing Nautilus Silver Metal book Big Topics at Midnight: A Texas Girl Wakes Up to Race, Class, Gender and Herself.
nancymthurston.com
Board Member
Gina Breedlove
​Gina Breedlove is a Singer, Songwriter, Sound Healer & Medicine Woman from Brooklyn, NY, now living in the Bay area. gina tours the world with her music that she calls Folksoul, and holds Sound Healing Circles in every city. "I use Sound and Music to move stuck energy through the body, creating opportunity for wellness and ease". You may find out more about gina's Healing Artistry here:
ginaBreedlove.com
&
VibrationofGrace.com
Treasurer
Bernard C. Murphy CFP
A native of Dublin Ireland, Bernard earned his degrees (BA & MA) in Economics and Sociology from the University of Dublin, Trinity College (TCD), in Ireland. He earned his CFP® designation in 2011.
Bernard is the founder of Dovetail Financial, offering Financial Planning, Advice and Management services to individuals and selected organizations. Dovetail Financial is located in Capitola CA and is affiliated with Arista Advisory Group LLC, a Registered Investment Advisor.
Prior to starting his firm, Bernard worked for close to thirty years to support the lives of children and adults with varying disabilities, in his responsibilities as CEO, CFO and President of four organizations including seven as the president/CEO of a public Foundation..
Bernard also served as a trustee and/or director of a number of non-profit organizations. He is a former trustee and past president of the Camphill Association of North America. He served as a director of the Board of Camphill Foundation from 1992 until 2010 where he also held the office of Board president and CEO between 2003 and 2010. Bernard was a co-founder of the North American Council for Curative Education and Social Therapy. In addition, Bernard currently serves as an advisor to three non-profit entities.
Bernard has and continues to co-initiate a number of educational workshops and seminars on topics such as Mission Related investing and understanding money in the context of an individual's, and/or an organization's, unique biographical journey.
A descendent of German Jewish immigrants, Noa lived her early years in Israel. Her community activism which began at the age of 9, was key to her learning and core to what sustained her. In high school and college Noa sought non-traditional experiential education through Friends World College–based on international independent field study. Her 16 year marriage with Douglas, a Sotho /Tswana South African, who she met living in exile in Kenya, gifted Noa with 2 children, joy, and a broadened perspective. Noa's participation in Be Present, inc. brought her in partnership with Rose during an 18 month Training Institute on Race, Gender, Power and Class at the same time as Noa was challenged to grow her learning edge working with the complexity of expanded financial privilege that came with an inheritance from family. With a MA in Human Development (specialization in Parent/Community Work), Noa worked in non-profit organizations for over 50 years, most recently with Wisdom & Money. Life today with her wife, Demetra, is full of love, family – (5 children, 9 grandchildren and great grandchildren), building community at the base of Mt. Shasta, and their CoCreation Arts business.

Board Member
Lillie P. Allen, MPH
Lillie's groundbreaking workshop, "Black & Female: What is the Reality?" was presented at the First National Conference on Black Women's Health Issues in 1983 at Spelman College. This workshop became a catalyst for a national movement for social justice. She is the founder of Be Present, Inc. and the creator of the Be Present Empowerment Model®. As Lillie says, "I am the founder. To me that means I found other people who wanted to thrive and be an active part of creating a fair and just world for all people." Lillie currently serves as Creatrix of Play/CEO of Be Present, Inc. She has been involved in public health education and social justice work for over forty years, and has broad experience in developing leadership, collaboration, and collective impact. Lillie holds a Masters in Public Health from the University of North Carolina at Chapel Hill, School of Public Health. In 2008, she was named one of 21 Leaders for the 21st Century by Women's eNews.