What is our Spiritual Companionship offering?
We offer private, one-to-one conversations of spiritual companionship with three of our staff members: Jon Hokama, Rose Feerick, and Sawyer Tracy. During these conversations, individuals reflect on their experience of the sacred and the specific questions, issues, and challenges that emerge when we attempt to align our money with our faith. Our focus is on listening together for the leading of Spirit when it comes to money in your life. 
Why we offer Spiritual Companionship
Spiritual Companionship allows an individual to receive 1:1 support they need around acute or specific areas in their lives related to money.  In a spiritual companionship session, Wisdom & Money staff members listen with openness, asking questions to assist the speaker to understand their own experience more fully, connect with inner wisdom and sense the presence of the sacred in their lives. Staff members do not direct people toward a particular outcome, but rather create a context in which each person can discern their next steps with the encouragement and support of a spiritual companion. 
Wisdom & Money believes in the power of community to transform our lives and our money. Our model is circle based and we offer spiritual companionship to augment and catalyze the growth happening in circles. So while we encourage people to join an ongoing circle when possible to experience a community of practice, we recognize that some people are unable to be in a circle. We offer spiritual companionship to those members in an ongoing way. 
Examples of 1-to-1 topics and questions
Our individual sessions range from supporting a new person to discern the best place for them within the Wisdom & Money community, to privately processing an issue, question, or concern that has emerged in one's relationship to money. The individual seeking conversation determines the focus of the conversation   Here are some examples of topics that may come up (though of course each person's experience is unique):
How much to give and to whom?

How do I work with Jesus' challenges to wealthy people?

How do I talk to financial professionals about my spiritual values and hopes? 

What do I do with feelings of guilt related to money?

How do I work with differences related to money in my relationship with my spouse or partner?
Our work in retreat circles address similar money topics, and for the most part, we offer spiritual companionship as a complement to that which happens in our circles, the heart of our work at Wisdom & Money.
How we offer our 1-to-1 Spiritual Companionship 
Below is some helpful information around how we schedule our 1-to-1 sessions, session duration, and more: 
All sessions are

as needed

. Please reach out to our staff when you need us. (See "scheduling" section below to set a time.) 

Most sessions are

one hour in length

. 

All sessions are

offered in the spirit of gift. We do not charge a fee

for any of our offerings. 

All sessions are held in

confidence

. 

Sessions are not financial advice sessions. 

Most sessions take place

online

, over Zoom or on the

phone

but sometimes in person sessions happen depending on location.  
Who offers Spiritual Companionship 1-to-1s?
You may request to schedule a session with either Jon Hokama (Associate Director, Finances & Fund Development) or Rose Feerick (Co-Director). Sawyer Tracy is currently not scheduling new appointments. Please see their bios and respective scheduling instructions below:
Jon Hokama,
Associate Director, 
Finance & Fund 
Development
Jon has been immersed in money and God practices since the age of five. (Be sure to ask him about the Sunday school escapade that got him started). He also remembers two words his Japanese grandparents used to say—okane (money) and okami (God), which sounded suspiciously alike to his young ears.
In his work as an ordained campus minister and during his graduate studies in economics, he began to experience within himself the great schism between Spirit and money in finance/economics. Jon brings a lifelong experience of reintegrating Spirit and money while doing non-profit fundraising, corporate sales forecasting, and one-to-one coaching of executives and business owners.
He loves creating a space with you where together we can listen with the Spirit as the clarity and vitality of your story emerges and you begin to live into greater freedom in your own money story. Jon considers it a great privilege and joy to hold you and your evolving story in confidence as you walk your own journey of transformation.
>> To schedule a 1-to-1 with Jon, please schedule directly via his online calendar here. When the online booking prompts you to include additional information, please type in your name, phone number, time zone and the question(s) you would like to explore.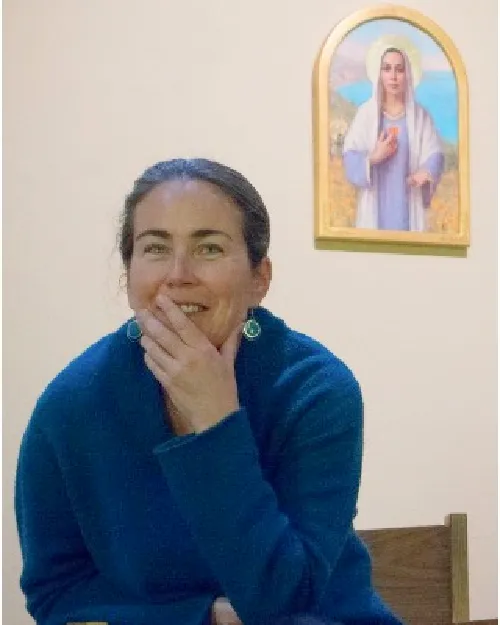 Rose Feerick,
Co-Director
Rose Feerick has been participating in retreat circles exploring money and Christian spirituality for over twenty years. That experience has given her an ability to hold challenging questions related to money in a spirit of great compassion, with an honoring of the uniqueness of each person's journey and rapt curiosity about where the journey will go next.
Rose grounds her listening primarily in the Be Present Empowerment ModelⓇ and also draws upon the spiritual discernment training that she received at the Jesuit School of Theology to assist with noticing and savoring sacred presence in one's heart and life. 
>> To schedule a 1-to-1 with Rose, please schedule directly via her online calendar here. When the online booking prompts you to include additional information, please type in your name, phone number, time zone and the question(s) you would like to explore. 
Sawyer Tracy, Esq.,
Associate Director of Story and Strategy
(Not scheduling new spiritual companionship sessions at this time.)
Sawyer Tracy has spent much of the last 15 years supporting people to listen deeper–to themselves and to others–in pursuit of emerging their true spirits from which they can live, good, full lives. 
In addition to being a licensed attorney, she is a certified Spiritual Director from Still Harbor. She is currently finishing up her theological training at Underground Seminary where she focuses her learning on the spiritual and historical power of money and trauma. She has lived and worked on 5 of the 7 continents and brings a global justice lens to all of her work.
No legal advice will be provided during sessions with Sawyer Tracy.
How to schedule a Spiritual Companionship 1-to-1
If you would like to schedule a session with Jon Hokama please schedule directly via his online calendar here. 
If you would like to schedule a session with Rose Feerick, please do so via her online calendar here.
When scheduling via their online calendars, please indicate the following information in the field with the prompt to "please share anything that will help prepare for our meeting":
your name

your phone number
your time zone

(optional) questions or reasons for wanting to set up a session.
Questions? 
If you have any questions about our spiritual companionship offering, please email Jon Hokama.